go red sox!!
…2004 world series champions…
---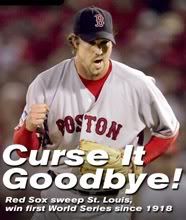 whoo hoo!!!! red sox win game 4 against the st. louis cardinals 3-0.. their 8th game win in a row.. congratulations red sox!!

The moment for which Boston waited 86 years finally occurred when the Red Sox completed a four-game sweep of the Cardinals on Wednesday night at Busch Stadium. With clouds blocking a total lunar eclipse, the Red Sox blanked St. Louis 3-0 in Game 4 of the World Series to win their first title since 1918 and send their fans dancing into the streets more wildly than Carlton Fisk twisting down the first-base line.

Believe it. The team that crushed hopes more surely than any club outside of Chicago, the team synonymous with postseason failure, the team that was three outs from being swept by the Yankees just over a week ago … is now officially the World Series champion.

click here to read more..
…and even more reading…
Got anything to say? Go ahead and leave a comment!